October 18, 2009
Warren Buffett once wrote that in financial analysis, having an IQ above 125 is wasted and that success in investing is largely a matter of temperament. This tells us two things, one, that the world's greatest investor thinks that dispassionate adherence to investing principles is more important than fancy quantitative models, and two, that Warren Buffett's IQ is 126.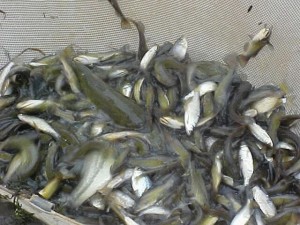 The most dispassionate method is the "net-nets" recommended by Ben Graham. These are firms whose working capital (cash and short term investments, receivables, and inventory) exceeds their total debts, and which are selling to a discount even to that. In other words, the current assets of the firm will pay for the purchase of the entire firm, and the firm's longer-term assets and the future earning power they represent are available for free, or in fact, the current shareholders are paying you to buy them. The Snowball, Warren Buffett's biography speaks of Benjamin Graham's employees wearing lab coats and filling out forms to calculate whether a net-net existed. Nowadays, with SEC filings available online and the Excel spreadsheet having been invented, one would expect that these opportunities are harder to find, and indeed they are, and upon seeing them one might be curious as to why.
In theory, a diverse portfolio of these investments could be purchased without any further analysis, but as I've stated there may be something other than a depressed market at work. USEC Inc., for example, sold at less than its net working capital for a long period, but it was actually stockpiling cash in order to build its centrifuge plant, and we all know how that worked out.
Anyway, some kind person on the Internet has a screener to identify these opportunities. Most of them are over the counter or penny stocks, which are difficult to trade and subject to liquidity issues, which does suggest that neglect by the market is still a significant cause of these net-nets appearing. Some of them are in danger of delisting, which in theory does nothing to a firm's operations, but usually does adversely affect its share price and also its access to capital markets. More troubling than trading difficulties, though, are operational difficulties; if the firm has a negative operating cash flow, it is quite conceivable that it will burn through the discount it sells for, thus robbing these issues of their apparent safety. Another issue is firms that reclassify their long-term investments to short-term, as with Asta Funding, a debt recycler on the list, has reclassified all of its portfolio of debts as receivables, when in reality they hold the debts for multiple years. Other firms may have inventories that need writing down.
But a firm that can avoid these troubles is almost by definition an attractive investment. Key Tronic Corporation (KTCC), manufactures circuit boards and other electronics. They have positive operating earnings, although they are a bit low in terms of return on capital, but more importantly they have 61 million in current assets, 27 million in debts, and 24 million in market cap, leaving a discount to current assets of $10 million, producing a 42% discount which makes a very decent margin of safety. Hence, this firm is worth more liquidated than it is valued at as a going concern, and when the economy improves and they have more orders, their return on assets should dramatically improve.
So, clearly fine returns can be made off what the market overlooks, if you do a little homework to make sure the market isn't actually right.